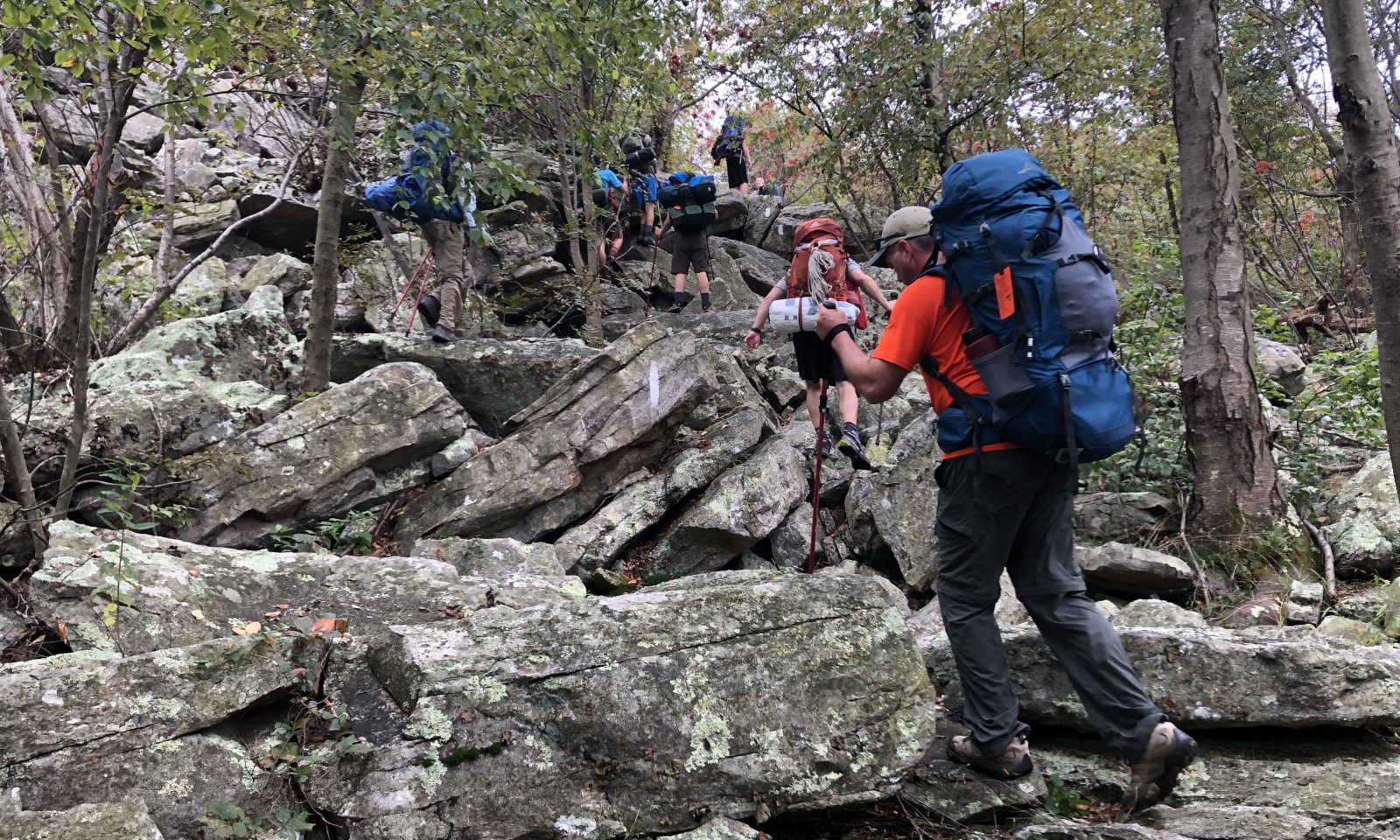 If you have never gone backpacking, do it this weekend. I mean, who doesn't want to strap a whole bunch of crap to their back, hike ten miles, sleep on the ground in a tent? I do! *rasies hand*
Mr. McClune sharing some MREs

Enjoying a hot meal

Knife's Edge, Appalachian Trail, PA

Mr. Price taking it all in

Mr. Geiger looks on
I enjoy heading out for a weekend trek with only the essentials. I especially enjoy it with our Scout Troop. I get to be with my boys, and be around some really great adult leaders. We have a lot of fun, and usually make new memories each time we go out. Like the time Mr. Geiger fell off a large rock, backwards, landing on his back, and bending one of his trekking poles. Yea, that was a good time! Or, when Mr. Crumpler and Mr. Brunner ate "animal droppings." Notice a theme yet? Some of the memories aren't always funny, though, and it was due to poor planning on a Scout's part. Adults do this, too.
Backpacking can be a miserable time if you don't have a lot of knowledge about it. Poor choices make for a bad time. Poor planning can make things even worse. Not much worse than wet clothes, or not enough food or water, or a leaky tent, or the worst time with mosquitos. If you fail to plan, you are planning to fail.
Finding the right gear doesn't have to be expensive. Sure, I could've dropped a small fortune in an hour on Eastern Mountain Sports and REI without batting an eye. The thriftiness in me, however, makes me search for the best price for the most performance and quality. It takes a lot of time searching online. Sometimes you have to wait for the sales or deals to happen. We are lucky to get a 50% discount, as members of the BSA, on all Alps brands products—packs, tents, sleeping pads, rain gear. When I was preparing for Philmont, I began obsessing about pack weight, and made a few purchases that, now looking back, were not necessary. Believe it or not, some of Wal Mart's camping gear is actually pretty good. My son and I both used their brand of water bladder. They performed perfectly, and I continue to use it without issues.
I could really go down a rabbit hole, but maybe I should write a few individual posts about specific topics—types of gear, when to use it, etc.. Take away this from this post … don't be afraid to force yourself to rely on ONLY yourself. There's something to be said about being in the woods, swinging in a hammock, sipping a hot cup of joe you just made, and you are miles from anything civilized.